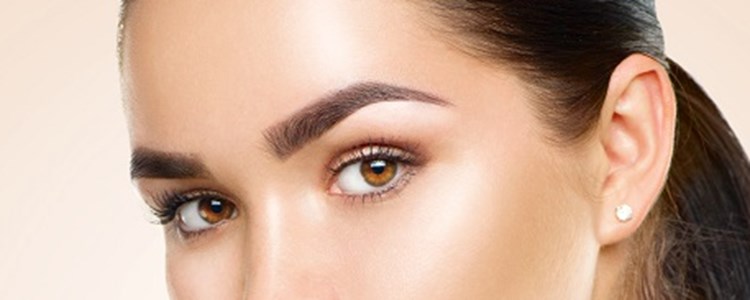 Facethetics Training are excited to announce the launch of our brand new Eyebrow and Eyelash Enhancement Course. As many aesthetic and beauty professionals will no doubt already be aware, eyebrow and eyelash treatments have become extremely popular in recent years. Eyebrows in particular are now receiving far more attention than ever before, with many people wishing to replicate the trend set by celebrities such as Cara Delevigne and Kim Kardashian who sport fuller, more defined eyebrows.
The Facethetics Eyebrow and Eyelash Enhancement Course has been designed to provide learners with the skills and knowledge to enhance and define the eyes by shaping and tinting the eyebrows and applying tint to the eyelashes. The course covers all areas of treating the brows and lashes, including health and safety, consultation and aftercare, orbital anatomy and physiology, stages of hair growth and the history of eyebrow shapes. Delegates will learn how to carry out a full consultation and treatment, assess the client to ensure that the eyebrows are shaped to complement the shape of their face, and to improve sparse or uneven brows.
We have welcomed a new member to our Education team for this course, the fantastic Antonia Zeverona. Antonia has a wealth of experience in the beauty industry having worked as a beauty therapist at several different salons over many years. She now manages a successful city centre beauty salon, treating clients on a daily basis. Antonia will guide delegates through a full treatment and will share her own personal tips for getting the best results from an eyebrow or eyelash treatment.
One of the most exciting things about this course is that we do not require learners to have any prior experience in order to attend. This is the first time we are able to train people who are completely new to beauty with no qualifications, however, an interest in beauty treatments or makeup artistry would be beneficial.
This course is ideal for anyone looking to move into the beauty industry, especially if you would later like to train in other creative areas such as makeup artistry or semi permanent makeup. We also feel that for aesthetic or beauty professionals who are assessing and treating faces daily, this course can provide you with "that little bit extra" and give you a great understanding of how something as simple as an eyebrow can completely change a client's face.
If you would like to know more about this course, give us a call on 0151 559 0865 or click here to book.