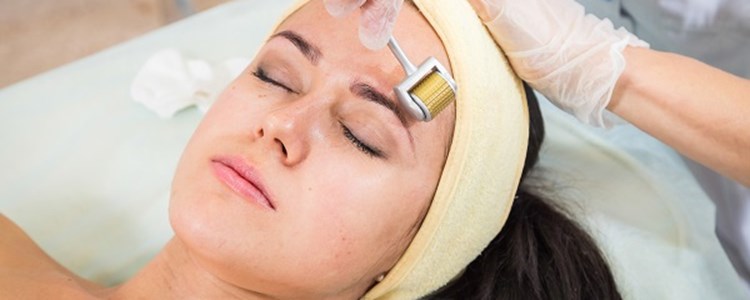 Duration: 1 day
Level: Foundation
Price: £395
Entry Requirements:

This course is open to doctors, dentists, nurses, Level 3 beauty therapists and Level 2 beauty therapists who have completed our Advanced Facial and Skin Anatomy course.

This course is CPD Certified

SKIN
What is microneedling?
Manual Microneedling is a treatment which uses a tool made up of a barrel covered in tiny needles. The barrel is rolled across the skin of the face, neck and décolletage in order to improve the appearance of acne scars, lines and wrinkles, hyperpigmentation and sun damage.
Mechanical Microneedling delivers many more micro channels within the dermis of the skin by use of a pen device. Secured at the top of the pen is a cartridge that consists of between 9-15 needles reducing fluid intake and cross contamination.. The needles mechanically penetrate the skin with minimal damage and the device can be set at different depths depending on the clients concerns, which allows for a more flexible treatment option. 
What does a microneedling treatment involve?
Anaesthetic cream is applied to the skin approximately 30-40 minutes prior to treatment in order to numb it. The microneedling device is then applied to the skin at a depth appropriate for the skin concerns. The action of the needles create millions of microscopic channels into the dermis. This stimulates the skin to repair itself by the natural wound healing cascade and thus induces a newer form of collagen fibres to be produced in the affected areas to support the skin structure. Actives are used during the mechanical device training to avoid unnecessary friction within the skin during treatment.
What does the microneedling course involve?
The course worth 8 CPD Hours begins with a detailed, interactive presentation delivered by our expert skin tutor. The presentation will cover:
Skin Anatomy
Treatment Indications
Contraindications
Treatment Techniques
Protocols
Practical
Aftercare
Combination Treatments and Treatment Plans
Introductory to mechanical microneedling
The history and future of microneedling will be discussed.  Knowledge on various methods will be shared with you such as the stamping method and more advanced techniques to treat specific skin conditions such as scarring/pigmentation.
During the practical session, each delegate will put what they've learnt into practice. Models are supplied for the practical element of the course, however, if you wish to experience the treatment yourself you can email ahead of training to request to be a model.
Following completion of the training, what support will I receive?
Delegates will be able to purchase skin needling products and equipment which will allow them to offer the treatment to their clients immediately.
We are always happy to offer advice and guidance should you have any questions once you have started offering the treatment to your patients. We can be contacted by phone or email.
Ask The Educator
Book Now
9:50am - Registration and refreshments
10:00am - Overview of treatment
11:30am - Demonstration
12:30pm Lunch
1:00pm - Practical Session
3:30pm - Introduction to mechanical microneedling
5:00pm - Q&A
£395
(£25 discount if you have previously trained with us)
To make payment please call 0151 595 0865 or you can pay by bank transfer, bank details will be given upon receipt of application form.
 On receipt of a deposit for your course, you are automatically agreeing to our Terms and Conditions.
Payment plan
To secure your place on the course you would pay a deposit of £150, followed by;
2 x monthly payments of £122.50
OR 
4 x monthly payments of £61.25
This course is open to doctors, dentists, nurses, Level 3 beauty therapists and Level 2 beauty therapists who have completed our Advanced Facial and Skin Anatomy course.
This course is CPD Certified