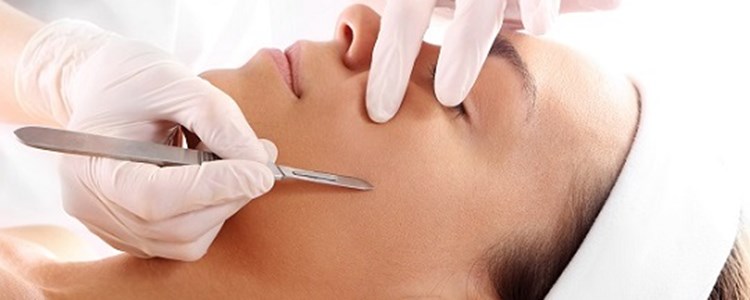 Duration: Full Day
Level: N/A
Price: £395
Entry Requirements:

Level 2 Beauty Therapist, Nurse, Doctor and Dentist.

This course is CPD Certified

SKIN
Why choose Facethetics Training?
Our Educator has more than 20 years experience within the aesthetic and beauty industry. Her knowledge on skin is extensive, enabling her to deliver training that will go above and beyond the treatment specifically being trained. Learners will have the opportunity to tap into the extensive experience and knowledge she holds.  On attending our courses, the people you meet and the resources given help you to evolve in your area of expertise, picking up valuable tips and expanding your portfolio. We are unique in that we will demonstrate how to combine Dermaplaning with another treatment, giving you more to offer your customers. We are insured with Enhance Insurance.
What is Dermaplaning?
Dermaplaning is a method of physical exfoliation that consists of using a sterile scalpel to remove the uppermost layers of the keratinised skin cells to reveal a smoother and brighter complexion. The scalpel gently exfoliates dead skin cells whilst also removing the fine superficial vellus hair from the face, commonly known as "peach fuzz." The treatment will produce a brighter and more youthful glow to the client's skin, as well as allowing skincare products to be absorbed more easily. Clients also find that their makeup sits more smoothly on their skin following the removal of "peach fuzz".
Dermaplaning is a fantastic treatment addition to any salon, aesthetic or skin clinic as the treatment has no downtime and leaves the skin with a youthful glow that clients can see instantly. With repeated procedures, clients can hope to see improvements in skin texture and skin tone with results being noticeable from day one. As this is a non invasive treatment, this treatment can be performed on almost all skin types except those with active acne or numerous raised skin blemishes. As the popularity has risen for aesthetic treatments, so has the interest in skin rejuvenation treatments.
What is involved in the treatment?
The treatment involves using a surgical sterile scalpel to finely exfoliate the top layers of skin (keratinised cells). The treatment is performed on freshly cleansed and sanatized skin. The scalpel is then positioned at a precise angle and the skin is pulled taut to avoid the scalpel pulling and damaging the skin. The scalpel is then lightly moved across the face, working in sections to reveal a brighter and more youthful complexion. SPF is then applied to the skin after the treatment as the skin's barrier function has been impaired and will be sensitive to the damaging UV rays.
The treatment can be performed on almost all skin types except those with acneic skin or any with numerous raised skin blemishes. As the treatment avoids all harsh chemicals it is a brilliant alternative to traditional skin peels for pregnant women or those with sensitive skin, however, Dermaplaning with the correct training, can also be used in combination with other treatments.
What does the course involve?
Anatomy & Physiology of the skin
Theory behind Dermaplaning
Combining Dermaplaning with another treatment
Skin analysis
Benefits of the treatment
Consultation & Contraindications
Demonstration
Hands on practical
Disposal of blades, safe practice
Insurance
The day will begin with our highly experienced educator covering the theory behind Dermaplaning. Theory will include skin types, skin analysis, what Dermaplaning is, client expectations, the benefits of the treatment, contraindications and client consultation. The theory will then be followed by a demonstration performed by our educator. There will be short break for lunch which will be supplied by us. In the afternoon, all delegates will have the opportunity to perform a treatment on a client. We try our best to supply a model for all delegates however sometimes we may ask delegates if they would like to experience the treatment themselves on the training day. This helps give further insight to the treatment, allowing you to manage client expectations.
Following completion of the training, what support will I receive?
Should you have any questions or queries once you have introduced the treatment at your own clinic, we are always on hand to offer advice. You can contact us via phone or email and we will be in touch to help. 
Ask The Educator
Book Now
9:45am - Registration and refreshments
please bring your ID with you and any certificates that have been requested
10:00am – Presentation and discussion of treatment
11.30am - Demonstration of treatment and aftercare
12:00pm – Lunch
12.30pm – Practical session
4.30pm - Questions and Answers
5:00pm - Finish
£395
(£25 discount if you have previously trained with us)
To make payment please call 0151 595 0865 or you can pay by bank transfer, bank details will be given upon receipt of application form.
 On receipt of a deposit for your course, you are automatically agreeing to our Terms and Conditions.
Payment plan
To secure your place on the course you would pay a deposit of £150, followed by;
2 x monthly payments of £122.50
OR 
4 x monthly payments of £61.25
Level 2 Beauty Therapist, Nurse, Doctor and Dentist.
This course is CPD Certified